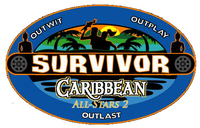 Previous Season:Dominican Republic Next Season: Malaysia
Contestants
Edit
Episode
Immunity
Eliminated
Vote
Finish
1
Lagarto
Monkey
4-1-1
1st Voted Out
Day 3
Tortuga
Aguila
2
Aguila
Jaren
No Vote
Disqualified
Day 6
Lagarto
Tortuga
3
Tortuga
Zach
No Vote
Evacuated
Day 7
Aguila
Rana
Brendan
4-1
2nd Voted Out
Day 8
4
Lagarto
David
3-2-1
3rd Voted Out
Day 11
Tortuga
Adam
3-1
4th Voted Out
Day 11
5
Tortuga
Anthony
5-2-1-0
5th Voted Out
Day 14
6
Tyler R.
Nathan
7-2
6th Voted Out
Day 15
Jordan
Ziggy
3-3-0;
4-2
7th Voted Out
Day 15
7
Aguila
Nick
8-0
8th Voted Out
Day 18
8
Aguila
George
3-2-2
9th Voted Out
1st Jury Member
Day 21
9
Tortuga
Jake
4-0
10th Voted Out
2nd Jury Member
Day 24
10
Kevin
Noah
5-1-0
11th Voted Out
3rd Jury Member
Day 27
11
Kaeden
Jordan
4-3-2-2
12th Voted Out
4th Jury Member
Day 28
Kaeden
Kevin
6-2-2
13th Voted Out
5th Jury Member
Day 28
12
Shannon
Kaeden
7-1-1
14th Voted Out
6th Jury Member
Day 30
13
Shannon
Kim
3-3-1-0;
4-2
15th Voted Out
7th Jury Member
Day 31
Dustin
Ivan
5-2
16th Voted Out
8th Jury Member
Day 33
14
Shannon
Alex
1-1-1-0;
2-1
17th Voted Out
9th Jury Member
Day 36
15
Shannon
Dustin
4-2
18th Voted Out
10th Jury Member
Day 37
Tyler R.
Tyler M.
3-1
19th Voted Out
11th Jury Member
Day 38
Jury Vote
Shannon
8-2-1
2nd Runner-Up
Diego
Runner-Up
Tyler R.
Sole Survivor
Voting History
Edit
Original
Tribes
First Switch
Second
Switch
Merged
Tribe
Episode
1
2
3
4
5
6
7
8
9
10
11
12
13
14
15
Eliminated:
Monkey
4/6 votes
Jaren
No Vote
Zach
No Vote
Brendan
4/5 votes
David
3/6 votes
Adam
3/4 votes
Anthony
5/9 votes
Nathan
7/9 votes
Tie
Ziggy
4/6 votes
Nick
8/8 votes
George
3/7 votes
Jake
4/7 votes
Noah
5/12 votes
Jordan
4/11 votes
Kevin
6/10 votes
Kaeden
7/9 votes
Tie
Kim
4/6 votes
Ivan
5/7 votes
Tie
Alex
2/3 votes
Dustin
4/6 votes
Tyler M.
3/4 votes
Voter:
Vote
Tyler R.
Nathan
Nick
George
Kaeden
Alex
Kim
Kaeden
Kim
None
Ivan
Dustin
None
Dustin
Tyler M.
Diego
Nathan
Nick
Dustin
Ivan
Jordan
Kevin
Kaeden
Ivan
Kim
Ivan
Dustin
Alex
Dustin
Tyler M.
Shannon
Brendan
Nick
Nick
Dustin
Noah
Diego
Kevin
Kaeden
Kim
Kim
Ivan
Alex
Alex
Tyler R.
Tyler M.
Tyler M.
Monkey
Adam
Nathan
Nick
Jordan
Noah
Jordan
Kevin
Kaeden
Dustin
Kim
Diego
Dustin
None
Dustin
Shannon
Dustin
Brendan
Anthony
Jake
Ziggy
Kaeden
Ivan
Diego
Kevin
Kaeden
Tyler R.
Tyler R.
Ivan
Tyler R.
Tyler R.
Tyler R.
Alex
Kevin
Nathan
Nick
Jordan
Noah
Ivan
Tyler M.
Alex
Tyler R.
Tyler R.
Ivan
Tyler M.
None
Dustin
Ivan
Monkey
Adam
Nathan
Nick
George
Noah
Jordan
Kevin
Kaeden
Kim
Kim
Diego
Kim
David
Anthony
Ziggy
None
Jake
Ivan
Ivan
Kevin
Kaeden
Tyler R.
None
Kaeden
Kim
Kim
Kim
George
Noah
Jordan
Kim
Kim
Kevin
David
Nathan
Nick
Jake
Ivan
Alex
Tyler M.
Jordan
Anthony
Jake
Ziggy
Jake
Ivan
Ivan
Noah
Brendan
Anthony
Ziggy
Ziggy
Jake
Ivan
Jake
Monkey
Adam
Dustin
Kim
Kim
Jordan
George
David
Anthony
Ziggy
Ziggy
Kaeden
Nick
Nathan
Nick
Ziggy
Dustin
Kim
None
Nathan
Brendan
Nick
Anthony
Kim
Ziggy
Adam
Monkey
Ivan
David
Kim
Brendan
Nathan
Zach
Evacuated
Jaren
Jaren
Disqualified
Monkey
Jake
Jury Vote
Edit
Jury Vote
Finalist:
Shannon
1/11 votes 
Diego
2/11 votes
Tyler R.
8/11 votes
Voter:
Vote
Tyler M.
Tyler R.
Dustin
Tyler R.
Alex
Shannon
Ivan
Tyler R.
Kim
Tyler R.
Kaeden
Tyler R.
Kevin
Tyler R.
Jordan
Diego
Noah
Tyler R.
Jake
Diego
George
Tyler R.
This season has the most contestants ever, with 24.

2 time participants: Alex, Anthony, Diego, Dustin, George, Jaren, Kaeden, Noah, Tyler R., Zach and Ziggy.
3 time participants: Andrew, Brendan, Brian Monkey, David, Ivan, Jake, Jordan, Kevin, Shannon, Nathan, Nick and Tyler M.
4 time participants: Adam.

This is the first season to have a contestant compete four times.
Ad blocker interference detected!
Wikia is a free-to-use site that makes money from advertising. We have a modified experience for viewers using ad blockers

Wikia is not accessible if you've made further modifications. Remove the custom ad blocker rule(s) and the page will load as expected.